"Integracja" – nowa konkurencja, nowe gwiazdy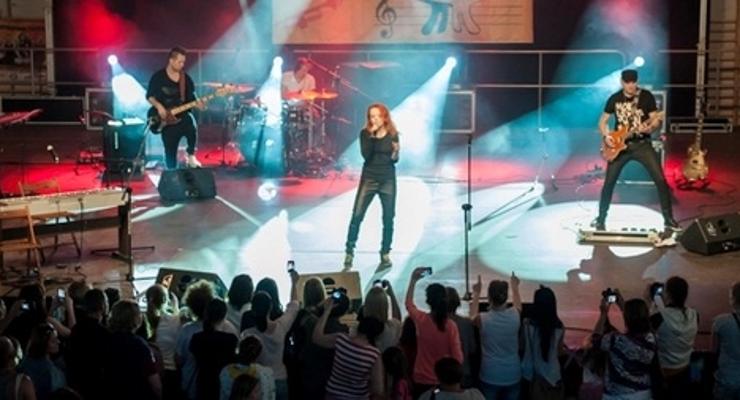 "Ja tutaj przyszłam, żeby to powiedzieć, że jak są życzliwi ludzie, to wtedy rzeczy niemożliwe stają się możliwe. Wtedy nie ma ludzi pokrzywdzonych, nie ma żadnych barier, to wszystko nagle pada. Wystarczy tylko uśmiech, życzliwość i dobra wola. Dzięki takim ludziom jak Marek (Piekarczyk), jak masa innych ludzi udaje się robić fantastyczne rzeczy".

Słowa te wypowiedziała Anna Dymna, znana aktorka, a od wielu lat prezes krakowskiej fundacji charytatywnej Mimo Wszystko, adresowanej do osób niepełnosprawnych intelektualnie. Anna Dymna po raz pierwszy gościła w czwartek 22 maja na festiwalu - obok takich osób, jak reżyser Krzysztof Zanussi, Wiesław Komasa, Ania Rusowicz, Mateusz Ziółko, Maurycy Polaski i wspominany przez Annę Dymną, Marek Piekarczyk, który towarzyszy festiwalowi od pierwszych chwil, a także jest fundatorem nagród dla uczestników.
Taką fantastyczną rzeczą był siódmy Festiwal "Integracja Malowana Dźwiękiem". Nie ma drugiego festiwalu o podobnej formule w Polsce, dlatego nic dziwnego, że z roku na rok cieszy się coraz większym zainteresowaniem. Muzyczne talenty niepełnosprawnych umysłowo, a także – fizycznie, często skrywane gdzieś pod korcem w domu czy w szkole, tu mają szansę zaistnieć w pełnym blasku.
Od zeszłego roku nie ma już na festiwalu kategorii "soliści", są tylko duety. Duety, dodajmy, kojarzone "na gorąco" podczas dwudniowych warsztatów, najczęściej z osób zupełnie sobie obcych, które czasem mieszkają od siebie w odległości kilkuset kilometrów. Warunek jest jeden: uczestnik sprawny występuje z tym poszkodowanym przez los. Wspólna praca nad piosenką owocuje przyjaźniami. Wzruszające są potem obrazki, kiedy zdrowa dziewczynka prowadzi na scenę niewidomego chłopca, a zdrowy chłopak pcha wózek ze swoją niepełnosprawną, sceniczną partnerką. Na naszych oczach dokonuje się to "niemożliwe", o czym mówiła Anna Dymna. Czyli, prawdziwa, nieudawana integracja. Malowana dźwiękiem.
W tym roku organizatorzy, czyli dyrekcja i pracownicy SOSW w Bochni, wprowadzili na festiwal nową konkurencję: kabaret. Rezultatów oczekiwano z pewnym niepokojem, zważywszy, że aktorami miały być osoby niepełnosprawne. Efekt przeszedł najśmielsze nadzieje. Obydwie nagrodzone grupy kabaretowe: z WTZ w Stalowej Woli (skecz "Czerwony kapturek") i kabarecik z SOSW w Bochni pokazały rzeczy bardzo zabawne, świetnie wykorzystujące warunki fizyczne i głosowe aktorów. Widać było, że sami młodzi ludzie dobrze się na scenie bawili. Chapeau bas przed opiekunami, a zarazem – scenarzystami i reżyserami, którzy potrafili to wszystko dostrzec i wykorzystać. Jak powiedział Jerzy Turek, wicedyrektor SOSW, grup kabaretowych było 5 i wszystkie bardzo dobre! Aż szkoda, że tylko dwie nagrody.
Na zakończenie Festiwalu wystąpił Mateusz Ziółko, zwycięzca III edycji "The Voice of Poland" wraz z innymi uczestnikami tej edycji telewizyjnego programu: Michałem Grobelnym, Dominiką Kobiałką, Jagodą Kret, Justyną Kunysz i Magdaleną Meisel.
A oto pełna lista nagrodzonych:
[if gte mso 9]><xml> <w:WordDocument> <w:View>Normal</w:View> <w:Zoom>0</w:Zoom> <w:TrackMoves /> <w:TrackFormatting /> <w:PunctuationKerning /> <w:ValidateAgainstSchemas /> <w:SaveIfXMLInvalid>false</w:SaveIfXMLInvalid> <w:IgnoreMixedContent>false</w:IgnoreMixedContent> <w:AlwaysShowPlaceholderText>false</w:AlwaysShowPlaceholderText> <w:DoNotPromoteQF /> <w:LidThemeOther>EN-US</w:LidThemeOther> <w:LidThemeAsian>X-NONE</w:LidThemeAsian> <w:LidThemeComplexScript>X-NONE</w:LidThemeComplexScript> <w:Compatibility> <w:BreakWrappedTables /> <w:SnapToGridInCell /> <w:WrapTextWithPunct /> <w:UseAsianBreakRules /> <w:DontGrowAutofit /> <w:SplitPgBreakAndParaMark /> <w:DontVertAlignCellWithSp /> <w:DontBreakConstrainedForcedTables /> <w:DontVertAlignInTxbx /> <w:Word11KerningPairs /> <w:CachedColBalance /> </w:Compatibility> <w:BrowserLevel>MicrosoftInternetExplorer4</w:BrowserLevel> <m:mathPr> <m:mathFont m:val="Cambria Math" /> <m:brkBin m:val="before" /> <m:brkBinSub m:val=" " /> <m:smallFrac m:val="off" /> <m:dispDef /> <m:lMargin m:val="0" /> <m:rMargin m:val="0" /> <m:defJc m:val="centerGroup" /> <m:wrapIndent m:val="1440" /> <m:intLim m:val="subSup" /> <m:naryLim m:val="undOvr" /> </m:mathPr></w:WordDocument> </xml><xml> <w:LatentStyles DefLockedState="false" DefUnhideWhenUsed="true" DefSemiHidden="true" DefQFormat="false" DefPriority="99" LatentStyleCount="267"> <w:LsdException Locked="false" Priority="0" SemiHidden="false" UnhideWhenUsed="false" QFormat="true" Name="Normal" /> <w:LsdException Locked="false" Priority="9" SemiHidden="false" UnhideWhenUsed="false" QFormat="true" Name="heading 1" /> <w:LsdException Locked="false" Priority="9" QFormat="true" Name="heading 2" /> <w:LsdException Locked="false" Priority="9" QFormat="true" Name="heading 3" /> <w:LsdException Locked="false" Priority="9" QFormat="true" Name="heading 4" /> <w:LsdException Locked="false" Priority="9" QFormat="true" Name="heading 5" /> <w:LsdException Locked="false" Priority="9" QFormat="true" Name="heading 6" /> <w:LsdException Locked="false" Priority="9" QFormat="true" Name="heading 7" /> <w:LsdException Locked="false" Priority="9" QFormat="true" Name="heading 8" /> <w:LsdException Locked="false" Priority="9" QFormat="true" Name="heading 9" /> <w:LsdException Locked="false" Priority="39" Name="toc 1" /> <w:LsdException Locked="false" Priority="39" Name="toc 2" /> <w:LsdException Locked="false" Priority="39" Name="toc 3" /> <w:LsdException Locked="false" Priority="39" Name="toc 4" /> <w:LsdException Locked="false" Priority="39" Name="toc 5" /> <w:LsdException Locked="false" Priority="39" Name="toc 6" /> <w:LsdException Locked="false" Priority="39" Name="toc 7" /> <w:LsdException Locked="false" Priority="39" Name="toc 8" /> <w:LsdException Locked="false" Priority="39" Name="toc 9" /> <w:LsdException Locked="false" Priority="35" QFormat="true" Name="caption" /> <w:LsdException Locked="false" Priority="10" SemiHidden="false" UnhideWhenUsed="false" QFormat="true" Name="Title" /> <w:LsdException Locked="false" Priority="1" Name="Default Paragraph Font" /> <w:LsdException Locked="false" Priority="11" SemiHidden="false" UnhideWhenUsed="false" QFormat="true" Name="Subtitle" /> <w:LsdException Locked="false" Priority="22" SemiHidden="false" UnhideWhenUsed="false" QFormat="true" Name="Strong" /> <w:LsdException Locked="false" Priority="20" SemiHidden="false" UnhideWhenUsed="false" QFormat="true" Name="Emphasis" /> <w:LsdException Locked="false" Priority="59" SemiHidden="false" UnhideWhenUsed="false" Name="Table Grid" /> <w:LsdException Locked="false" UnhideWhenUsed="false" Name="Placeholder Text" /> <w:LsdException Locked="false" Priority="1" SemiHidden="false" UnhideWhenUsed="false" QFormat="true" Name="No Spacing" /> <w:LsdException Locked="false" Priority="60" SemiHidden="false" UnhideWhenUsed="false" Name="Light Shading" /> <w:LsdException Locked="false" Priority="61" SemiHidden="false" UnhideWhenUsed="false" Name="Light List" /> <w:LsdException Locked="false" Priority="62" SemiHidden="false" UnhideWhenUsed="false" Name="Light Grid" /> <w:LsdException Locked="false" Priority="63" SemiHidden="false" UnhideWhenUsed="false" Name="Medium Shading 1" /> <w:LsdException Locked="false" Priority="64" SemiHidden="false" UnhideWhenUsed="false" Name="Medium Shading 2" /> <w:LsdException Locked="false" Priority="65" SemiHidden="false" UnhideWhenUsed="false" Name="Medium List 1" /> <w:LsdException Locked="false" Priority="66" SemiHidden="false" UnhideWhenUsed="false" Name="Medium List 2" /> <w:LsdException Locked="false" Priority="67" SemiHidden="false" UnhideWhenUsed="false" Name="Medium Grid 1" /> <w:LsdException Locked="false" Priority="68" SemiHidden="false" UnhideWhenUsed="false" Name="Medium Grid 2" /> <w:LsdException Locked="false" Priority="69" SemiHidden="false" UnhideWhenUsed="false" Name="Medium Grid 3" /> <w:LsdException Locked="false" Priority="70" SemiHidden="false" UnhideWhenUsed="false" Name="Dark List" /> <w:LsdException Locked="false" Priority="71" SemiHidden="false" UnhideWhenUsed="false" Name="Colorful Shading" /> <w:LsdException Locked="false" Priority="72" SemiHidden="false" UnhideWhenUsed="false" Name="Colorful List" /> <w:LsdException Locked="false" Priority="73" SemiHidden="false" UnhideWhenUsed="false" Name="Colorful Grid" /> <w:LsdException Locked="false" Priority="60" SemiHidden="false" UnhideWhenUsed="false" Name="Light Shading Accent 1" /> <w:LsdException Locked="false" Priority="61" SemiHidden="false" UnhideWhenUsed="false" Name="Light List Accent 1" /> <w:LsdException Locked="false" Priority="62" SemiHidden="false" UnhideWhenUsed="false" Name="Light Grid Accent 1" /> <w:LsdException Locked="false" Priority="63" SemiHidden="false" UnhideWhenUsed="false" Name="Medium Shading 1 Accent 1" /> <w:LsdException Locked="false" Priority="64" SemiHidden="false" UnhideWhenUsed="false" Name="Medium Shading 2 Accent 1" /> <w:LsdException Locked="false" Priority="65" SemiHidden="false" UnhideWhenUsed="false" Name="Medium List 1 Accent 1" /> <w:LsdException Locked="false" UnhideWhenUsed="false" Name="Revision" /> <w:LsdException Locked="false" Priority="0" SemiHidden="false" UnhideWhenUsed="false" QFormat="true" Name="List Paragraph" /> <w:LsdException Locked="false" Priority="29" SemiHidden="false" UnhideWhenUsed="false" QFormat="true" Name="Quote" /> <w:LsdException Locked="false" Priority="30" SemiHidden="false" UnhideWhenUsed="false" QFormat="true" Name="Intense Quote" /> <w:LsdException Locked="false" Priority="66" SemiHidden="false" UnhideWhenUsed="false" Name="Medium List 2 Accent 1" /> <w:LsdException Locked="false" Priority="67" SemiHidden="false" UnhideWhenUsed="false" Name="Medium Grid 1 Accent 1" /> <w:LsdException Locked="false" Priority="68" SemiHidden="false" UnhideWhenUsed="false" Name="Medium Grid 2 Accent 1" /> <w:LsdException Locked="false" Priority="69" SemiHidden="false" UnhideWhenUsed="false" Name="Medium Grid 3 Accent 1" /> <w:LsdException Locked="false" Priority="70" SemiHidden="false" UnhideWhenUsed="false" Name="Dark List Accent 1" /> <w:LsdException Locked="false" Priority="71" SemiHidden="false" UnhideWhenUsed="false" Name="Colorful Shading Accent 1" /> <w:LsdException Locked="false" Priority="72" SemiHidden="false" UnhideWhenUsed="false" Name="Colorful List Accent 1" /> <w:LsdException Locked="false" Priority="73" SemiHidden="false" UnhideWhenUsed="false" Name="Colorful Grid Accent 1" /> <w:LsdException Locked="false" Priority="60" SemiHidden="false" UnhideWhenUsed="false" Name="Light Shading Accent 2" /> <w:LsdException Locked="false" Priority="61" SemiHidden="false" UnhideWhenUsed="false" Name="Light List Accent 2" /> <w:LsdException Locked="false" Priority="62" SemiHidden="false" UnhideWhenUsed="false" Name="Light Grid Accent 2" /> <w:LsdException Locked="false" Priority="63" SemiHidden="false" UnhideWhenUsed="false" Name="Medium Shading 1 Accent 2" /> <w:LsdException Locked="false" Priority="64" SemiHidden="false" UnhideWhenUsed="false" Name="Medium Shading 2 Accent 2" /> <w:LsdException Locked="false" Priority="65" SemiHidden="false" UnhideWhenUsed="false" Name="Medium List 1 Accent 2" /> <w:LsdException Locked="false" Priority="66" SemiHidden="false" UnhideWhenUsed="false" Name="Medium List 2 Accent 2" /> <w:LsdException Locked="false" Priority="67" SemiHidden="false" UnhideWhenUsed="false" Name="Medium Grid 1 Accent 2" /> <w:LsdException Locked="false" Priority="68" SemiHidden="false" UnhideWhenUsed="false" Name="Medium Grid 2 Accent 2" /> <w:LsdException Locked="false" Priority="69" SemiHidden="false" UnhideWhenUsed="false" Name="Medium Grid 3 Accent 2" /> <w:LsdException Locked="false" Priority="70" SemiHidden="false" UnhideWhenUsed="false" Name="Dark List Accent 2" /> <w:LsdException Locked="false" Priority="71" SemiHidden="false" UnhideWhenUsed="false" Name="Colorful Shading Accent 2" /> <w:LsdException Locked="false" Priority="72" SemiHidden="false" UnhideWhenUsed="false" Name="Colorful List Accent 2" /> <w:LsdException Locked="false" Priority="73" SemiHidden="false" UnhideWhenUsed="false" Name="Colorful Grid Accent 2" /> <w:LsdException Locked="false" Priority="60" SemiHidden="false" UnhideWhenUsed="false" Name="Light Shading Accent 3" /> <w:LsdException Locked="false" Priority="61" SemiHidden="false" UnhideWhenUsed="false" Name="Light List Accent 3" /> <w:LsdException Locked="false" Priority="62" SemiHidden="false" UnhideWhenUsed="false" Name="Light Grid Accent 3" /> <w:LsdException Locked="false" Priority="63" SemiHidden="false" UnhideWhenUsed="false" Name="Medium Shading 1 Accent 3" /> <w:LsdException Locked="false" Priority="64" SemiHidden="false" UnhideWhenUsed="false" Name="Medium Shading 2 Accent 3" /> <w:LsdException Locked="false" Priority="65" SemiHidden="false" UnhideWhenUsed="false" Name="Medium List 1 Accent 3" /> <w:LsdException Locked="false" Priority="66" SemiHidden="false" UnhideWhenUsed="false" Name="Medium List 2 Accent 3" /> <w:LsdException Locked="false" Priority="67" SemiHidden="false" UnhideWhenUsed="false" Name="Medium Grid 1 Accent 3" /> <w:LsdException Locked="false" Priority="68" SemiHidden="false" UnhideWhenUsed="false" Name="Medium Grid 2 Accent 3" /> <w:LsdException Locked="false" Priority="69" SemiHidden="false" UnhideWhenUsed="false" Name="Medium Grid 3 Accent 3" /> <w:LsdException Locked="false" Priority="70" SemiHidden="false" UnhideWhenUsed="false" Name="Dark List Accent 3" /> <w:LsdException Locked="false" Priority="71" SemiHidden="false" UnhideWhenUsed="false" Name="Colorful Shading Accent 3" /> <w:LsdException Locked="false" Priority="72" SemiHidden="false" UnhideWhenUsed="false" Name="Colorful List Accent 3" /> <w:LsdException Locked="false" Priority="73" SemiHidden="false" UnhideWhenUsed="false" Name="Colorful Grid Accent 3" /> <w:LsdException Locked="false" Priority="60" SemiHidden="false" UnhideWhenUsed="false" Name="Light Shading Accent 4" /> <w:LsdException Locked="false" Priority="61" SemiHidden="false" UnhideWhenUsed="false" Name="Light List Accent 4" /> <w:LsdException Locked="false" Priority="62" SemiHidden="false" UnhideWhenUsed="false" Name="Light Grid Accent 4" /> <w:LsdException Locked="false" Priority="63" SemiHidden="false" UnhideWhenUsed="false" Name="Medium Shading 1 Accent 4" /> <w:LsdException Locked="false" Priority="64" SemiHidden="false" UnhideWhenUsed="false" Name="Medium Shading 2 Accent 4" /> <w:LsdException Locked="false" Priority="65" SemiHidden="false" UnhideWhenUsed="false" Name="Medium List 1 Accent 4" /> <w:LsdException Locked="false" Priority="66" SemiHidden="false" UnhideWhenUsed="false" Name="Medium List 2 Accent 4" /> <w:LsdException Locked="false" Priority="67" SemiHidden="false" UnhideWhenUsed="false" Name="Medium Grid 1 Accent 4" /> <w:LsdException Locked="false" Priority="68" SemiHidden="false" UnhideWhenUsed="false" Name="Medium Grid 2 Accent 4" /> <w:LsdException Locked="false" Priority="69" SemiHidden="false" UnhideWhenUsed="false" Name="Medium Grid 3 Accent 4" /> <w:LsdException Locked="false" Priority="70" SemiHidden="false" UnhideWhenUsed="false" Name="Dark List Accent 4" /> <w:LsdException Locked="false" Priority="71" SemiHidden="false" UnhideWhenUsed="false" Name="Colorful Shading Accent 4" /> <w:LsdException Locked="false" Priority="72" SemiHidden="false" UnhideWhenUsed="false" Name="Colorful List Accent 4" /> <w:LsdException Locked="false" Priority="73" SemiHidden="false" UnhideWhenUsed="false" Name="Colorful Grid Accent 4" /> <w:LsdException Locked="false" Priority="60" SemiHidden="false" UnhideWhenUsed="false" Name="Light Shading Accent 5" /> <w:LsdException Locked="false" Priority="61" SemiHidden="false" UnhideWhenUsed="false" Name="Light List Accent 5" /> <w:LsdException Locked="false" Priority="62" SemiHidden="false" UnhideWhenUsed="false" Name="Light Grid Accent 5" /> <w:LsdException Locked="false" Priority="63" SemiHidden="false" UnhideWhenUsed="false" Name="Medium Shading 1 Accent 5" /> <w:LsdException Locked="false" Priority="64" SemiHidden="false" UnhideWhenUsed="false" Name="Medium Shading 2 Accent 5" /> <w:LsdException Locked="false" Priority="65" SemiHidden="false" UnhideWhenUsed="false" Name="Medium List 1 Accent 5" /> <w:LsdException Locked="false" Priority="66" SemiHidden="false" UnhideWhenUsed="false" Name="Medium List 2 Accent 5" /> <w:LsdException Locked="false" Priority="67" SemiHidden="false" UnhideWhenUsed="false" Name="Medium Grid 1 Accent 5" /> <w:LsdException Locked="false" Priority="68" SemiHidden="false" UnhideWhenUsed="false" Name="Medium Grid 2 Accent 5" /> <w:LsdException Locked="false" Priority="69" SemiHidden="false" UnhideWhenUsed="false" Name="Medium Grid 3 Accent 5" /> <w:LsdException Locked="false" Priority="70" SemiHidden="false" UnhideWhenUsed="false" Name="Dark List Accent 5" /> <w:LsdException Locked="false" Priority="71" SemiHidden="false" UnhideWhenUsed="false" Name="Colorful Shading Accent 5" /> <w:LsdException Locked="false" Priority="72" SemiHidden="false" UnhideWhenUsed="false" Name="Colorful List Accent 5" /> <w:LsdException Locked="false" Priority="73" SemiHidden="false" UnhideWhenUsed="false" Name="Colorful Grid Accent 5" /> <w:LsdException Locked="false" Priority="60" SemiHidden="false" UnhideWhenUsed="false" Name="Light Shading Accent 6" /> <w:LsdException Locked="false" Priority="61" SemiHidden="false" UnhideWhenUsed="false" Name="Light List Accent 6" /> <w:LsdException Locked="false" Priority="62" SemiHidden="false" UnhideWhenUsed="false" Name="Light Grid Accent 6" /> <w:LsdException Locked="false" Priority="63" SemiHidden="false" UnhideWhenUsed="false" Name="Medium Shading 1 Accent 6" /> <w:LsdException Locked="false" Priority="64" SemiHidden="false" UnhideWhenUsed="false" Name="Medium Shading 2 Accent 6" /> <w:LsdException Locked="false" Priority="65" SemiHidden="false" UnhideWhenUsed="false" Name="Medium List 1 Accent 6" /> <w:LsdException Locked="false" Priority="66" SemiHidden="false" UnhideWhenUsed="false" Name="Medium List 2 Accent 6" /> <w:LsdException Locked="false" Priority="67" SemiHidden="false" UnhideWhenUsed="false" Name="Medium Grid 1 Accent 6" /> <w:LsdException Locked="false" Priority="68" SemiHidden="false" UnhideWhenUsed="false" Name="Medium Grid 2 Accent 6" /> <w:LsdException Locked="false" Priority="69" SemiHidden="false" UnhideWhenUsed="false" Name="Medium Grid 3 Accent 6" /> <w:LsdException Locked="false" Priority="70" SemiHidden="false" UnhideWhenUsed="false" Name="Dark List Accent 6" /> <w:LsdException Locked="false" Priority="71" SemiHidden="false" UnhideWhenUsed="false" Name="Colorful Shading Accent 6" /> <w:LsdException Locked="false" Priority="72" SemiHidden="false" UnhideWhenUsed="false" Name="Colorful List Accent 6" /> <w:LsdException Locked="false" Priority="73" SemiHidden="false" UnhideWhenUsed="false" Name="Colorful Grid Accent 6" /> <w:LsdException Locked="false" Priority="19" SemiHidden="false" UnhideWhenUsed="false" QFormat="true" Name="Subtle Emphasis" /> <w:LsdException Locked="false" Priority="21" SemiHidden="false" UnhideWhenUsed="false" QFormat="true" Name="Intense Emphasis" /> <w:LsdException Locked="false" Priority="31" SemiHidden="false" UnhideWhenUsed="false" QFormat="true" Name="Subtle Reference" /> <w:LsdException Locked="false" Priority="32" SemiHidden="false" UnhideWhenUsed="false" QFormat="true" Name="Intense Reference" /> <w:LsdException Locked="false" Priority="33" SemiHidden="false" UnhideWhenUsed="false" QFormat="true" Name="Book Title" /> <w:LsdException Locked="false" Priority="37" Name="Bibliography" /> <w:LsdException Locked="false" Priority="39" QFormat="true" Name="TOC Heading" /> </w:LatentStyles> </xml> <mce:style>